STAC6-Q-H – Advanced Step Motor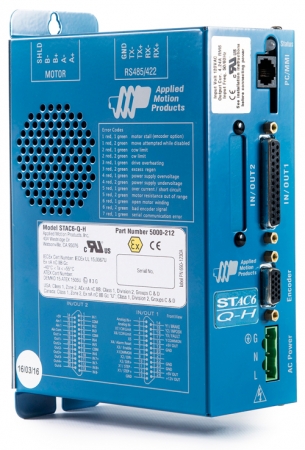 THE ONLY INTERNATIONALLY CERTIFIED HAZARDOUS LOCATION STEPPER DRIVE AVAILABLE
ATEX and IECEx certified for Class I, Zone 2 locations
UL certified for Class 1, Div 2, Group C & D locations
HazLoc Step Motor Drive
HazLoc certified for USA, Canada, Europe and Middle East
Superior performance
Advanced anti-resonance algorithm
Torque ripple smoothing
Microstepping to 51,200 steps/rev
Stored program for stand-alone operation
High power output for medium and large size step motors
Designed for use with the HX56-100 Step Motor
Built for Hazardous Locations
Class I hazardous locations are those in which flammable gases, vapors or liquids are, or may be, present in the air in quantities sufficient to produce explosive or ignitable mixtures. Zone 2, also known as Division 2, defines a hazardous location in which flammable gases, vapors or liquids are not likely to occur in normal operation but, if they do occur, will only persist for a short period of time. The STAC6-Q-H stepper drive is certified for Class I, Zone 2 locations (also known as Class I, Division 2 locations).
Explosive atmospheres are commonly found in the oil, gas, mining and printing industries, as well as in paint-finishing locations and aircraft hangars.
Certified Category 3 equipment under ATEX Directive 2014/34/EU
Superior Performance
Stepper drives from Applied Motion Products are the best in the business. The STAC6 offers best-in-class anti-resonance that ensures optimal performance of the step motor over the widest speed range. The drive is powered by single-phase 120 VAC which generates a nominal 160 volt DC internal bus voltage capable of driving the highest torque NEMA 34 and 42 frame step motors on the market.
Encoder feedback option for enhanced system accuracy using Stall Detection and Stall Prevention
Designed for use with high quality NEMA 23, 24, 34 and 42 frame step motors
7 digital inputs, 3 digital outputs, all optically isolated
2 analog inputs, +/-10 volt range