TM-StepDrive 1x24..48V/5A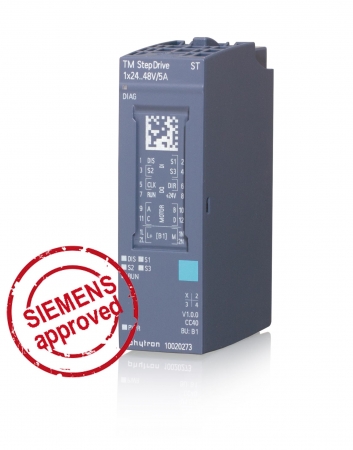 Stepper motor driver with integrated power stage for SIMATIC ET 200
®

SP in coordination with Siemens

Controlling and driving stepper motors within a modular PLC system: The TM StepDrive technology guarantees a high-precision current adjustment and enables fine positioning up to 1/256 step (approx. 51,200 positions per revolution (0.0070°/step) with a 200 step motor).
Technical Details
Stepper Motor controller with integrated power stage for SIMATIC ET 200

®

SP
The TM StepDrive 1x24..48V/5A module successfully completed the system compliance test performed by Siemens.
Suitable for bipolar control of 2 phase stepper motors with 4-,(6-) or 8 lead wiring
5 A

PEAK

Phase current with 100 mA adjustable increments
Power supply from 24 to 48 V

DC

up to 1/256 microstep
Physical resolution: approx. 51,200 positions per revolution (0.0070°/step). An encoder with a counter should be considered for micro positioning.
Maximum step frequency: 250,000 steps/sec
three digital inputs for limit and reference switches
Diagnostic LEDs (collective error, power supply, deactivation, digital input, motoris running)
two operating modes: positioning and technology object mode
two connection types: power stge and indexer
Online controller parameterising and diagnostic
Programming via STEP

®

7, TIA Portal

®

(from version V15) or via GSD(ML) file
Operating temperature: 0 to +60 °C
Short-circuit-proof, overload-protected
Important: the configuration files are not down-compatible.
SIMATIC®, ET 200®SP, STEP®7 and TIA Portal® are trade marks of the Siemens AG.
For details on this unit please contact: sales@mclennan.co.uk