EtherCAT Master Motion Coordinators
Mclennan has a wide range of EtherCAT Master Motion Coordinators, that allow you to control up to 128 servo or stepper axes with digital I/O and additional equipment such as HMI's all controlled from a single master. These systems can be specified and supplied with in stock matched drives, motors and gearboxes to suit your demands.
Flex 6 Nano Integrated EtherCAT Controller
Powerful, compact and flexible, the Flex-6 Nano is an integrated EtherCAT solution offering up to 64 Axes of motion. It is completely expandable through the matching Flexi-slice range of Input, Output and Axis modules.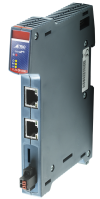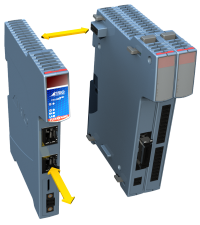 All in one Solution
The Flex-6 Nano is a powerful DIN rail mounted stand-alone flexible and compact Motion Coordinator. Its on board memory can be expanded to 32 GByte using a Micro SD card.
The Flex-6 Nano can be used as a stand-alone controller or can "plug" straight into our EtherCAT Flexslice System allowing expansion of the system to include servo and stepper drives, I/O and other functionality that conforms to the EtherCAT standard.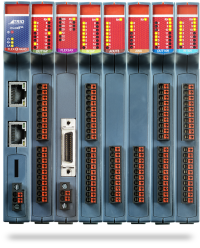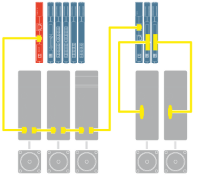 Trio's Flexslice input/output modules provide a robust, high speed and flexible solution for both motion control and general automation. EtherCAT cycle times down to 125μsecs are supported and the bus coupler uses EBUS technology to bring all the sub-modules on to the EtherCAT network with no degradation in performance.
EtherCAT slave nodes (Flexslice Modules) are connected via the Flexslice EBUS and the EtherCAT connector. Total slave connections can be up to 128 nodes including I/O and complex devices.
MC4N-ECAT & MC6N-ECAT Mini Master
The MC4N & MC6N are high performance Motion Coordinator which are designed to run remote servo and stepper drives via the real time EtherCAT automation bus. he MC4N is based on an up-rated version of the 532MHz ARM 11 processor; this makes it ideal for high axis count machines or robotic application. Whereas the MC6N is based on the 1GHz i.MX7 Dual ARM Cortex A7 Core Processor.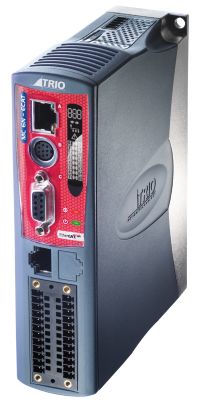 Plug and Play
The MC4N supports up to 32 axes of motion with 64 bit integer position registers and the MC6N can support up to 64 axes of motion with 64 bit integer position registers for ultra-precise axis resolution. EtherCAT slave drives and I/O can be connected and run in cyclic synchronous position, speed or torque modes provided these are supported by the drive.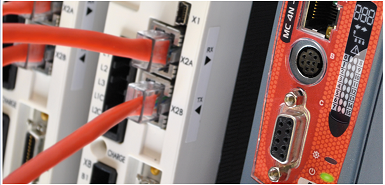 More EtherCAT and other Master Motion Co-ordinator avaible

here.