Applied Motion Products' new SV200 series digital servo drives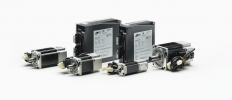 Ash Vale, Surrey, UK – September 2015: Recently announced by Applied Motion Products Inc. (AMP), the USA based motion innovator and available from Mclennan, the new SV200 series intelligent servo drives provide advanced motion performance and extensive functionality to suit a broad range of precision motion applications.
These compact servo drives include a direct-on-line power supply for convenient stand-alone operation 220 VAC nominal (single- or three-phase). Continuous current ratings from 3.0 and 4.5A and a 300% peak current capability combine with cutting-edge features such as programmable notch filters, an anti-vibration algorithm and auto-tuning to enable smooth motion and fast settling times over a wide dynamic range. Designed to suit servo motors with power ratings from 100 to 750 W, such as AMP's J series which include 2500 line encoders, the new digital drives include multiple communication and control options that will allow machine builders maximum application flexibility.
With all models featuring a USB port for set-up and tuning users can choose RS232, RS485, CANopen or Ethernet communication ports whilst a broad choice of control options covers pulse & direction, analogue torque or velocity, streaming commands, stored program execution, CANopen and EtherNet/IP.
A generous on-board configurable I/O complement includes eight regular and four high-speed digital inputs at 5-24 VDC that can be used for over-travel switches, coordinated event handling and fast positon capture in motion synchronisation applications such as packaging machines, process controls or dispensing equipment. Six digital outputs at 30 VDC maximum and two +/- 10 V analogue inputs balance the SV200's machine interfacing capability to offer users the ability to handshake and interact with PLCs or other automation controllers or even provide complete machine control for single-axis applications. The high level 'Q' programming language option for the SV200 provides complete multi-tasked motion and machine control with conditional processing, maths functions and high speed position registration, for instance in complex move sequencing and electronic gearbox applications. AMP's SVX Servo Suite software provides a central programming and application configuration environment for all SV200 series intelligent drives and is available free of charge for use across the AMP range of servo and stepper drives, allowing motor technologies to be freely mixed in applications for added flexibility and reduced motion component costs.
The SV200 range also features comprehensive fault protection and the compact panel mount drive includes a combination of front panel screw terminal and D-type connectors for fast and uncomplicated installation. A front mounted control panel and 5-digit LED display provides parameter setting/reading, error and operational status information. Complete specifications and option details are available on request from Mclennnan at sales@mclennan.co.uk or www.mclennan.co.uk .
About Mclennan
Mclennan works closely with a small number of global motion control manufacturers and with its own in-house design and manufacturing capability the Hampshire based motion specialist offers complete integrated mechatronics assemblies with customised mechanics, gearheads and other power train components. Motor technologies include brushed and brushless servo motors, stepper motors, small AC motors and complementary gear unit drive technologies together with motion controls for competitively priced multi-axis motion and machine control for use throughout industrial and OEM automated machine applications – contact Mclennnan at sales@mclennan.co.uk
---
Ash Vale, Surrey, UK – Septembre 2015: Annoncé récemment par Applied Motion Products Inc. (AMP) et disponible chez Mclennan, la nouvelle série de servo-variateurs intelligents SV200 offrent des performances de pointe et des fonctionnalités étendues pour répondre à une large gamme d'applications de mouvement de précision.
Ces servo variateurs compactes intègrent une alimentation 220 VAC (mono ou triphasé) pour un courant nominal de 3.0 à 4.5A avec une capacité de courant de crête de 300% et sont conçus avec des fonctionnalités de pointe telles que les filtres programmables par crans, un algorithme anti-vibration et un autoréglage pour permettre des mouvements fluides et des temps de stabilisation rapides sur une large plage dynamique. Calculés pour travailler avec des servomoteurs de puissances allant de 100 à 750 W telle la série J d'AMP incluant des codeurs 2500 lignes, ces nouveaux variateurs numériques disposent de multiples options de communications et de commandes qui donnent une grande flexibilité d'application aux constructeurs de machines.
Concernant la configuration et les réglages des modèles équipés d'un port USB, les utilisateurs peuvent choisir les ports de communication RS232, RS485, CANopen ou Ethernet avec un large choix d'options de contrôle telle que Pulse & Direction, couple ou vitesse analogique, les commandes de streaming, l'exécution de programmes stockés, CANopen et EtherNet/IP.
Complémentaire un large choix d'entrées/sorties configurables comprenant pas moins de huit entrées classiques et quatre entrées numériques à haute vitesse et à 5-24 VDC qui peuvent être utilisées pour les fins de course, la gestion des événements coordonnées avec capture de positons rapides dans les applications de synchronisation de mouvement telles que les machines d'emballage, les contrôles des procédés ou les équipements de distribution. Six sorties numériques de 30 Vcc maximum et deux entrées analogiques +/- 10 V équilibrent la capacité d'interfaçage du SV200 pour offrir aux utilisateurs la possibilité d'échanger et d'interagir avec les automates PLC ou d'autres contrôleurs d'automatismes ou même de fournir un contrôle complet de la machine pour les applications mono-axe. L'option haut niveau de langage de programmation «Q» du SV200 permet des mouvements en multitâche et le contrôle complet de la machine comme le traitement conditionnel, toutes les fonctions mathématiques et l'enregistrement position grande vitesse, comme on peut le voir par exemple dans le séquençage de mouvements complexes et les applications de boîtes de vitesses électroniques. La suite logiciels SVX Servo d'AMP fournit un environnement fiable pour une programmation centralisée et de nombreuses configurations d'applications avec les SV200, elle est disponible gratuitement et peut être utilisée sur toute la gamme des servomoteurs et des moteurs pas à pas d'AMP, permettant aux technologies de moteurs d'être mélangées librement dans des applications pour plus de flexibilité et une réduction des coûts de composants de mouvement.
La gamme SV200 comporte également des fonctionnalités compréhensives d'analyse des défauts et le panneau arrière dispose de bornes à vis et de connecteurs frontaux de type D pour une installation simple et rapide. Le panneau de contrôle frontal avec son afficheur 5 digits à LED fournit tous les paramètres de réglage et de lecture ainsi que toutes les informations d'erreurs sur l'état opérationnel. Une spécification complète avec les détails d'options est disponible sur demande auprès de Mclennnan à l'adresse sales@mclennan.co.uk ou sur notre site www.mclennan.co.uk.