High power density brushed DC miniature motors: Portescap's new Athlonix™ 24DCT mm high torque motor available from Mclennan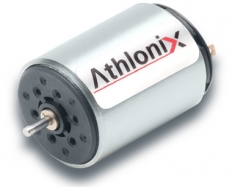 Ash Vale, Surrey, UK – November 2106: Now available with full support from Mclennan, Portescap's newly released Athlonix™ 24DCT series high-torque coreless brushed DC motor features an industry leading torque density and up to 90% efficiency, perfectly suiting miniature power transmission applications where energy consumption needs to be minimised or where high torque output is required in small installation envelopes. With an excellent price-to-performance factor, typical uses include battery driven medical and industrial pumps, syringe drug delivery drivers, portable power tools, gas analysers, humanoid robots and miniature pick and place or conveying mechanisms etc.
The 24 mm diameter precision motor is available with a wide choice of winding options for voltages from 21 to 48 V DC and a choice of precious metal or graphite-copper commutation. With its high performance neodymium magnet system the continuous output torque capability across the range is over 14 mNm with stall torque to over 60mNm and continuous speeds of 10,000 rpm. The graphite brush version features a unique constant force spring design for consistent performance whilst an REE (Restriction of Electro Erosion) coil option is available for prolonged motor life.
Thanks to its modular design and component standardisation, the 24DCT series offers competitive and fast customisation. Single or dual shaft versions with sleeve or ball bearings are easily configured as well as connector and cable options. The new motors are of course fully compatible with Portescap's wide range of high precision planetary and spur gearheads with precision encoders available for precise speed and accurate positioning is required.
Mclennan supports the new 24DCT high torque series with compatible drives, motion controls and other power transmission components. A comprehensive design and build service is available to integrate Portescap's brushed and brushless DC motor technologies into complete mechatronic solutions. Contact Mclennnan at sales@mclennan.co.uk or visit www.mclennan.co.uk .