JVL's MACTUATORTM range is available from Mclennan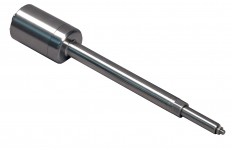 Aimed at precision motion control in food and beverage processing, medical equipment and other applications where corrosion resistance and hygienic design are critical factors, JVL Industri Elektronik's recently launched MACTUATORTM electric cylinder is now available from Mclennan, its UK distribution partner.
The powerful linear actuator integrates a stepper motor or servomotor/encoder complete with drive, motion controller plus fieldbus communication. The self-contained assembly is fully protected to IP67 or IP69K in a sealed 300-grade stainless steel housing with a smooth surface which repels solids build-up and can be subjected to high pressure spray and caustic washdown. Available in six nominal size and power output options with a choice of ball screw, acme screw or roller screw mechanics, the rod-style design is a compelling alternative for pneumatic or hydraulic cylinders with the advantage of much finer control and easier machine integration.
With stroke lengths to 1000mm and thrust force to over 20kN the MACTUATOR has been designed for high reliability, long life and maximum durability against thrust loads. The 25 and 30 sized MACTUATOR's, which are the largest in the standard range, have already gained USDA certifications for food processing applications. An oversized main bearing can accommodate high side loads whilst a threaded nose mount, which is compatible with many commercially available accessories, provides mechanical interfacing for many applications. Other mounting options include rear clevis and rear trunnion mounts, foot mounts, and front flange mounts. Brakes and integrated gear units are also practical customisation options for the actuator.
MACTUATOR motor options as well as drives and motion control/interfacing basically follow JVL's well-proven integrated motor range. This includes entry level units that may be controlled from step/direction signals in open loop or analogue servo with incremental or absolute feedback to sophisticated motion controls and a choice of plug-in expansion options such as POWERLINK® and EtherCATtm modules that adapt the integrated motor exactly to the customers' requirements. JVL's MacTalk software comprises a comprehensive set of commissioning tools to test and adjust motion systems whilst ActiveX controls are also available for Visual Basic, C++ and .Net application development.
About Mclennan
Mclennan works closely with a small number of global motion control manufacturers and with its own in-house design and manufacturing capability the Hampshire based motion specialist offers complete integrated mechatronics assemblies with customised mechanics, gearheads and other power train components. Motor technologies include brushed and brushless servo motors, stepper motors, small AC motors and complementary gear unit drive technologies together with motion controls for competitively priced multi-axis motion and machine control for use throughout industrial and OEM automated machine applications – contact Mclennan at sales@mclennan.co.uk or www.mclennan.co.uk .