Mclennan's MSE570M: Microstepping drive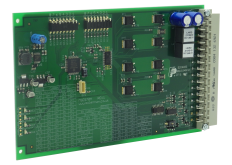 Ash Vale, Surrey, UK – July 2016: Mclennan has launched new pin-compatible version its popular MSE570 Eurocard series stepper motor drive that adds selectable microstepping resolution and features improved speed/torque capability. The completely redesigned MSE570M drive offers much improved smoothness, lower motor resonance and retains all of the useful control and monitoring features of the previous version, the MSE570EVO2.
At up to 4A per phase available the new drive boasts 15% more useful torque than its half-step predecessor making it a compelling proposition as a drop-in replacement for older machines where improved throughput or quieter and smoother performance is desirable. The new drive will also suit new OEM or end-user applications where its competitive price and the convenience of the Eurocard format is essential.
The new microstepping drive also features improved power input levels with provision for up to 48V DC regulated supply (up to 52 V DC unregulated). Its bi-polar chopped constant current drive stage is compatible with permanent magnet or hybrid stepper motors with 4, 6 and 8 leads - typically with up to NEMA 34 frame sized microstepping motors. DIP-switches are used to select a number of user-adjustable features of the MSE570M including full/half/microstep resolution (up to 51,200 steps/rev), current control (from 0.25 to 4 A per phase), standstill current (0 to 100% in four stages), thermal protection settings, direction and drive disable.
Further flexibility is offered with switchable signal level input and output settings (5V or 12V logic) with the drive configurable for use with step and direction signals that include CMOS, TTL open collector, opto isolated or switch type inputs. Four surface mounted status LEDs indicate power, drive disabled, over-temperature and overload faults.
As well as manufacture the MSE570M and other motion control components, McLennan has distribution partnerships with a select number of global motion control manufacturers. The complete range includes DC brushed and brushless servomotors, stepper motors, and associated drive technologies together with motion controls, gearheads and miniature power transmission components. Mclennan offers these products with full technical support as component level solutions, or using its own in-house design and assembly facilities is able to integrate them into complete customised mechatronics assemblies and motion control system solutions.
Mclennan works closely with a small number of global motion control manufacturers and with its own in-house design and manufacturing capability the Hampshire based motion specialist offers complete integrated mechatronics assemblies with customised mechanics, gearheads and other power train components. Motor technologies include brushed and brushless servo motors, stepper motors, small AC motors and complementary gear unit drive technologies together with motion controls for competitively priced multi-axis motion and machine control for use throughout industrial and OEM automated machine applications – contact Mclennan at sales@mclennan.co.uk or www.mclennan.co.uk .
---
Ash Vale, Surrey, UK – Juillet 2016 : Mclennan a lancé une nouvelle version de sa carte de commande pas à pas Eurocard MSE570 tout en restant 100% compatible broche à broche avec l'ancien modèle en y ajoutant une résolution micropas sélectionnable et montrant des capacités vitesse/couple améliorées. Cette carte MSE570M complètement redessinée apporte beaucoup d'améliorations, plus de souplesse, moins de résonance au moteur et conserve tous les fonctions utiles de la version précédente MSE570EVO2.
Jusqu'à 4A par phase admis cette nouvelle carte promet 15% de couple en plus que la précédente en mode demi-pas, ce qui permet aisément le remplacement avec d'autres cartes sur des machines plus anciennes qui auraient besoin d'améliorations ou d'être plus silencieuses avec plus de souplesse. Elle conviendra aussi parfaitement aux besoins des constructeurs "OEM" et à tous les utilisateurs finaux où son prix compétitif et la commodité du format Eurocard sont essentiels.
La nouvelle carte MSE570M voit son niveau d'entrée de puissance jusqu'à 48VCC avec alim régulée amélioré (jusqu'à 52 V DC non régulée). Son pilotage à courant constant choppé bipolaire est compatible avec les moteurs pas à pas à aimant permanent et hybrides possédant 4, 6 et 8 fils - typiquement jusqu'au moteur de taille NEMA 34. Des micro-interrupteurs DIP permettent de choisir les paramètres tels que, la résolution entier/demi/micropas (jusqu'à 51200 pas par tour pour les micropas), le contrôle du courant (de 0,25 à 4 A par phase), la gestion du courant dans le moteur à l'arrêt (0 à 100% en quatre étapes), les paramètres de protection thermique et la direction.
Plus de flexibilité avec le niveau de signal d'entrée/sortie réglable (5V ou 12V logique) la carte est configurable pour une utilisation "Step/Direction" incluant CMOS, TTL collecteur ouvert et opto isolé. Quatre LED permettent de vérifier différents états, alimentation, désactivation, surchauffe et défaut de surcharge.
En plus de fabriquer le MSE570M et nombreux autres drivers et contrôleurs de mouvement, McLennan a conclu des partenariats de distribution avec un certain nombre de fabricants mondiaux. La gamme complète comprend des servomoteurs avec et sans balais et des moteurs pas à pas et toutes les technologies d'entraînement associées ainsi que des réducteurs et composants miniatures de transmission de puissance. Mclennan propose des produits avec un support technique et en utilisant ses propres moyens d'assemblage interne pour l'intégration d'ensembles mécatroniques complets standards ou personnalisés et bien sûr toutes les solutions de contrôle de mouvement mono et multiaxes.