Portescap's new 16 mm Athlonix™ brushed DC motor added to Mclennan motor range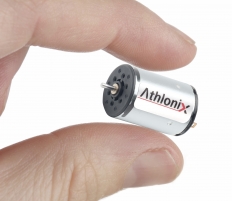 Portescap's new Athlonix™ 16 mm diameter brushed DC motors combine the substantial power density and cost effective characteristics of its DCP line for demanding miniature power transmission applications where high torque, high efficiency and exacting speed regulation are critical factors.
Available and with full support from Mclennan, the 16DCP series is offered with a choice of precious metal or graphite brush commutation in an optimised energy-efficient coreless design featuring a self-supporting coil and a powerful Alnico magnetic circuit – enabling higher load carrying capacity with a minimum reduction in speed when compared to competitive 16 mm diameter motors. This means more uniform power and smoother speed control for applications such as medical & industrial pumps, clinical, dentistry & commercial hand-operated power tools, security & access equipment and, gas analysers.
At just 24 mm nominal length, the 16DCP includes four standard windings up to 12 VDC for precious metal commutated version with a maximum continuous torque of up to 2.63 mNm and speeds up to 10,000 rpm. The graphite commutated version includes seven winding options up to 24 VDC and features a constant force spring brush design that extends its working life. Portescap's well-proven 'REE' feature prolongs the lifespan for both commutation versions by reducing winding electro erosion. The modular design of the 16DCP allows customisation with fast turnaround of samples for shaft lengths, special coils, cabling, connectors and bearings.
The new 16 mm diameter motor joins the recently announced 22 mm version of the DCP brushed DC motor series – part of a family of brushed DC motors that includes the compact DCT series high torque motors that offer improved life and reliability due to less heating and the DCS series which offer unparalleled speed-torque performance. These and Portescap's brushless range of miniature motors are available from Mclennan complete with high precision planetary and spur gearheads in addition to precision encoders where speed and positioning is required or where full closed loop motion feedback is called for.
Mclennan supports the new 22DCP series with drives and other power transmission components and also offers a complete design and build service that integrates such motor technologies into complete mechatronic solutions. Contact Mclennnan at sales@mclennan.co.uk or visit www.mclennan.co.uk .