New Athlonix™ high power density brushed DC motors are available from Mclennan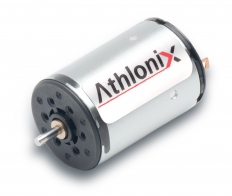 Ash Vale, Surrey, UK – November 2015: Portescap's newly announced Athlonix 22DCP high-power mini-motors with Alnico magnets are available from Mclennan. The 22mm brushed DC motor series, available with a choice of graphite or precious metal commutation, offers a compelling specification and cost-effective price/performance for high torque and high reliability miniature power transmission applications - from medical and industrial pumps to clinical and commercial hand-operated power tools, home and laboratory automation, and more.
The 22DCP's coreless design with its optimised self-supporting coil and magnetic circuit is available in eleven winding options from 3 through 48 VDC and delivers a maximum continuous torque up to 6.5 mNm - with a higher measured stall torque than similar 22 mm diameter motors. The precision manufactured motor provides smooth and quiet performance with speeds up to 10,000 rpm, with highly precise and repeatable torque/speed characteristics for maximum control.
With a nominal motor length of 32 mm, the 22DCP is available with single or dual shafts and for even more application and cost flexibility, users can select single or dual bearings. The constant force spring design for the carbon brush commutation version extends its working life whilst Portescap's well proven 'REE' feature, that reduces winding electro erosion, prolongs the lifespan for both commutation versions.
The new motor is of course available for use with Portescap's wide range of miniature planetary and spur gearheads in addition to encoders such as the new M Sense B where accurate positioning and closed loop motion feedback is called for. User-customised versions with special mechanical or electrical features are available.
Mclennan supports the new 22DCP series with drives and other power transmission components and also offers a complete design and build service that integrates such motor technologies into complete mechatronic solutions. Contact Mclennnan at sales@mclennan.co.uk or visit www.mclennan.co.uk .
---
Ash Vale, Surrey, UK – Novembre 2015 : Portescap qui a récemment présenté ses nouveaux moteurs miniatures Athlonix 22DCP à haute densité de puissance avec aimants Alnico sont disponibles chez Mclennan. La série de moteurs à balais 22 mm est proposée au choix avec deux systèmes de commutation possibles, graphite ou métaux précieux, offrant des caractéristiques séduisantes et un excellent rapport prix/performance, des couples élevés et une haute fiabilité aux applications de transmission de puissance miniatures telles que les pompes médicales et industrielles, les outils électroportatifs, les analyseurs de gaz, l'automatisation de laboratoires, et plus.
Le 22DCP à rotor sans fer conçu avec une bobine autoporteuse et un circuit magnétique optimisé dispose de 11 options d'enroulements de 3 à 48 Vcc et fournit un couple permanent maximal pouvant atteindre 6,5 mNm – et un couple de démarrage bien supérieur à celui des moteurs de diamètre 22 mm comparables. La précision de fabrication du moteur garantie des performances douces et silencieuses à des vitesses pouvant atteindre 10.000 tr/min, avec des caractéristiques couple/vitesse précises et répétées pour un contrôle maximal. Avec une longueur nominale de 32 mm, le 22DCP est disponible avec un axe simple ou double et pour encore plus de possibilités et de flexibilité avec les coûts, les utilisateurs peuvent sélectionner des roulements simples ou doubles. La conception innovante du ressort pour la commutation graphite garantie des performances stables sur toute la durée d'utilisation du moteur, d'autant qu'une bobine REE (réduction de l'électro-érosion) est disponible en option et permet de prolonger la durée de vie du moteur.
Le nouveau moteur est bien évidement compatible avec toute la gamme des réducteurs miniatures planétaires et à étages Portescap en plus des codeurs tels que le nouveau "M Sense B" où un positionnement précis avec une rétroaction de mouvement de la boucle fermée est nécessaire. Des versions personnalisables avec des caractéristiques mécaniques ou électriques spéciales sont également disponibles.
Mclennan prend en charge le pilotage électronique de la nouvelle série de 22DCP et des autres composants de transmission de puissance - et propose également d'étudier et de construire des systèmes qui intègrent de telles technologies de moteurs en solutions mécatroniques complètes.