New hollow shaft stepper motor range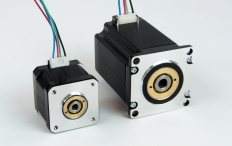 Ash Vale, Surrey, UK – October 2015: Mclennan, the motion component and systems specialist, further expands its range of stepper motors with the new competitively priced HH series hollow shaft motors from its USA distribution partner Applied Motion Products Inc. (AMP). With high-torque NEMA 17 and 23 motor frame options in a choice of stack lengths, the hollow shaft facilitates direct assembly of a lead screw without the need for a coupling - keeping hardware to a minimum and simplifying design for machine builders. The hollow shaft also allows customised shafts or other power transmission components to be quickly added to the motor without the often-long lead times that specials may take and also enables small quantities of specials to be produced at reasonable cost.
The internal shaft diameter for the 17 and 23 frame motors is 5 mm and 8 mm respectively. The holding torque across the 2-phase HH series ranges from 0.45 to 2.3 Nm with current ratings from 2 to 3 A per phase (series). The motors are supplied with a detachable lead/connector pigtail for straightforward installation in the customer's application. The 200/step/rev motors can be used with stepper drives across the AMP range, including the microstepping ST5 which offers sophisticated current control and multiple motion control options from simple streaming commands to EtherNet/IP communication.
About Mclennan
Mclennan works closely with a small number of global motion control manufacturers and with its own in-house design and manufacturing capability the Hampshire based motion specialist offers complete integrated mechatronics assemblies with customised mechanics, gearheads and other power train components. Motor technologies include brushed and brushless servo motors, stepper motors, small AC motors and complementary gear unit drive technologies together with motion controls for competitively priced multi-axis motion and machine control for use throughout industrial and OEM automated machine applications – contact Mclennan at sales@mclennan.co.uk or www.mclennan.co.uk
---
Ash Vale, Surrey, UK – Octobre 2015 : Mclennan, le spécialiste en composants et systèmes de mouvement et de position, élargit encore sa gamme de moteurs pas à pas avec la nouvelle série HH à arbre creux provenant de son partenaire américain Applied Motion Products Inc. (AMP). A partir de sa gamme de moteurs à fort couple de tailles NEMA 17 et 23, l'arbre creux facilite le montage direct d'une vis sans fin sans aucune nécessité d'accouplement – minimisant le matériel et simplifiant la conception des constructeurs de machines. L'arbre creux leur permet également de personnaliser leurs axes ou autres composants de transmission de puissance pouvant être rapidement ajoutés au moteur sans que les délais de livraison en souffrent, permettant aussi la production de petites quantités à un coût raisonnable.
Les diamètres internes des arbres creux des modèles 17 et 23 sont respectivement 5 mm et 8 mm. Le couple de maintien de la série HH avec 2 phases varie de 0,45 à 2,3 Nm avec des courants de 2 à 3 A par phase. Les moteurs sont fournis avec un câble/connecteur amovible pour simplifier l'installation par le client. Les moteurs 200 pas/tour peuvent être pilotés par toute la gamme de drivers/contrôleurs pas à pas d' AMP, y compris la série ST5 à micro-pas qui permet un pilotage sophistiqué et de multiples options de commande de mouvement à partir de commandes simples via une communication Ethernet/IP.
Au sujet de Maclennan :
Mclennan travaille étroitement avec un petit nombre de fabricants spécialisés en contrôle de mouvement et avec sa propre unité de conception et de fabrication interne, ainsi ce spécialiste basé dans le Hampshire propose des assemblages mécatroniques complets avec des mécaniques personnalisées, des réducteurs et beaucoup d'autres composants de la chaîne cinématique. En matière de technologies de moteurs on retrouve les moteurs et servomoteurs avec et sans balais, les moteurs pas à pas, les petits moteurs à courant alternatif, des réducteurs associés ainsi que des variateurs et contrôleurs multiaxes complexes pour la commande de machines automatisées et OEM – Contactez Mclennan à sales@mclennan.co.uk