Miniature motor performance and durability: Portescap's new 22ECP brushless slotless DC motors available from Mclennan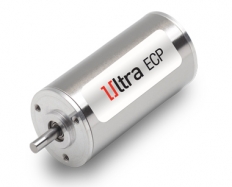 Ash Vale, Surrey, UK – August 2016: Portescap's new 22ECP series brushless and slotless miniature motors feature optimised speed/torque performance characteristics in two length versions with 80 W or 120 W continuous output power. Now available from motion control specialist Mclennan, the new 22 mm diameter motor particularly suits demanding speed and/or position controlled power transmission use where smooth operation, high precision, long working life and competitive costs are essential design considerations. Typical applications include high performance power tools, precision actuators, automation equipment, robotics, and wherever high mechanical power and solid durability is required in a compact installation envelope.
The 22ECP is part of Portescap's patented Ultra EC™ range – which is characterised by its superior power density factor and attractive price vs. performance. The new addition is available in nominal lengths of 45 and 60 mm and can deliver up to 50 mNm continuous torque – up to thirty percent more torque and twice the output potential of similar sized precision motors. The 24V DC motor with 40 mm length (22ECP45) can deliver no load speeds of 8.37 or 15.70 krpm, whilst the 60 mm version (22ECP60) yields 8.05 krpm. Alternative coil designs available on request to match customer's defined speed and voltage requirements.
The 22ECP is available with or without hall sensors and the optional dual shaft version is fully compatible with Portescap's M-sense rotary encoders for servo controlled operation. The high precision M22 series planetary gearbox range is a similarly a direct fit for compact high torque use up to 4 Nm. Through its own design and manufacturing capability, Mclennan can also provide absolute encoders or other gear unit choices; or include the 22ECP as part of a customised miniature power transmission solution complete with motion controls.
Portescap's full range of Ultra EC motors includes several other 22 mm diameter models that provide stall torque from 28 to 100 mNm and no-load speeds from 24 to 60 krpm. The complete range allows customers a wide choice of performance characteristics for new miniature power transmission applications or as a replacement for conventional brushed DC motor installations. The Ultra EC range's brushless and frictionless design and superior power vs. size characteristics will allow smaller electromechanical systems to be used with the benefit of extremely long working life and the potential for increased throughput.
For further details on the 22ECP and the complete Portescap UItra EC range contact Mclennnan at sales@mclennan.co.uk or visit www.mclennan.co.uk .
END
About Mclennan
Mclennan works closely with a select number of global motion control manufacturers and with its own in-house design and manufacturing capability the Hampshire based motion specialist offers complete integrated mechatronics assemblies with customised mechanics, gearheads and other power train components. Motor technologies include brushed and brushless servo motors, stepper motors, small AC motors and complementary gear unit drive technologies together with motion controls for competitively priced multi-axis motion and machine control for use throughout industrial and OEM automated machine applications – contact Mclennan at sales@mclennan.co.uk or www.mclennan.co.uk