Tri-axis inertial measurement goes below ground: Tamagawa's IMUs used for novel subterranean duct and borehole curvature measurement instrument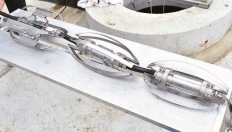 Combining its gyro-equipped inertial measurement units (IMUs) and including a high definition camera and additional sensors, Tamagawa Seiki's TUG-NAVI 'Under Ground Navigator' enables highly precise curvature and inner diameter measurement plus visual inspection for subterranean ducts and boreholes. The sensor and motion control component designer and manufacturer, represented in the UK by Mclennan, developed the novel instrument in collaboration a Korean utilities infrastructure company to reduce time and costs for replacing and maintaining old and dimensionally unpredictable buried cable networks.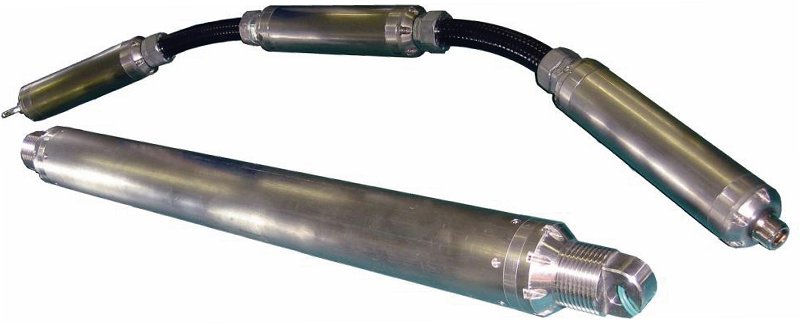 Image: The Tamagawa TUG-NAVI – cost savings for borehole curvature measurement and visual inspection
With buried duct and borehole direction-finding typically troublesome to assess, especially for older installations (due to physical movement or where original duct plans may be inaccurate), the TUG-NAVI obtains precise trajectory information about the duct-hole curvature that cannot be seen above ground. Suitable for vertical and horizontal boreholes, the instrument has been designed for use in space restricted ducts down to just 35 mm in diameter and its durable construction is built to withstand water and dirt ingress.
Various models are available as single or triple stages, normally supplied with a protective cage - all with an integral HD camera and sensors which typically include a MEMS gyro and 3-axis accelerometer. An integral transmitter relays 3D positional information to a PC with supplied software that interprets the measured trajectory in terms of attitude and azimuth data. Cable distance and speed is measured via a winding/thrusting drum that is used to propel the TUG-NAVI through the bore hole – manual and motorised versions are available depending upon the job in hand. The actual duct diameter is also measured by a separate Tamagawa sensor to ensure that new cabling can be accommodated. The camera allows foreign material and obstructions to be viewed for straightforward extraction, and may be triggered at any time during the measurement process.
Overall the time and cost savings for the customer far outweighed alternative methods which included separate sensor and camera systems for each operation to determine curvature measurement, foreign material removal and inner diameter measurement. In addition to its use on electrical power cable networks, the TUG-NAVI can be applied to water, sewerage, telecoms, gas and other subterranean pipeline systems for the verification of new pipe lines or repair and maintenance work.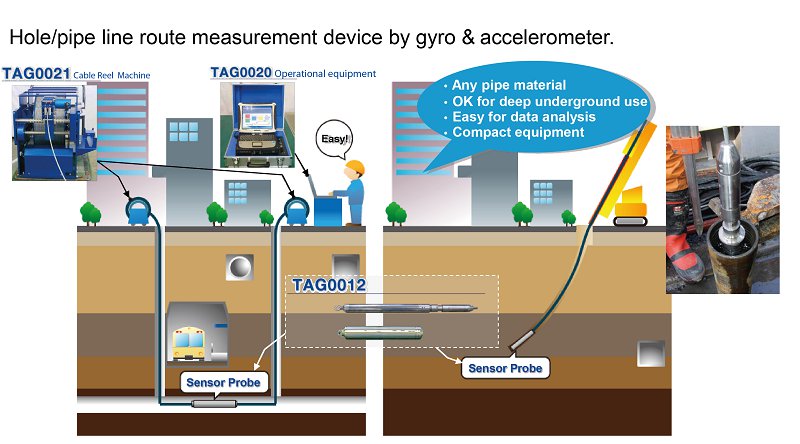 Image: Schematic of the Tamagawa TUG-NAVI – showing operation and capability of the duct and borehole measurement and inspection tool
Tamagawa's gyro-equipped IMUs have been developed primarily for use in autonomous vehicles for dynamic six-degree of freedom measurement. A wide choice of packaging and feature styles include low cost pitch, yaw and roll measurement sensors which might be used for straightforward driver evaluation to sophisticated IMUs with integral GPS receivers that can be part of complete dead reckoning systems for autonomous vehicles - ranging from cars and trucks to agricultural machinery.
However, the TUG-NAVI Under Ground Navigator represents just one of a comprehensive range of industrial application for Tamagawa IMUs. Due to their integrated gyro and accelerometer sensors, IMUs can provide certain advantages over other sensor types where complete orientation feedback and movement is essential or can be utilised to enhance performance, improve productivity or increase safety.
Such applications include robotics where an IMU might detect minute deflections in end effectors to improve precision and increase throughput. IMU's are also used to detect micro-vibration more effectively than individual accelerometers in machine tools, with the benefit of predictive maintenance for improved machine availability. Crane and hoist safety applications can benefit with superior X-Y axis deflection sensing over camera systems by directly detecting angular velocity and acceleration. Heavy construction vehicles use IMU's for more precise attitude measurement, enhancing safe tilt prevention. Medical applications that augment patient recovery can also be achieved with IMUs used for physiotherapy and rehabilitation - monitoring patient body movement over time through precise three-dimensional measurement of angular and linear position with acceleration, velocity and attitude.
Mclennan works closely with Tamagawa and other selected distribution partners. And with its own design and production capability is able to provide motion control based solutions that include IMUs as part of servo motor and/or stepper motor based integrated automation systems that are complete with motion software, fieldbus interfacing, gear units, positioning mechanics and other power transmission components. For application support on Tamagawa IMUs and motion control components and systems please contact Mclennan at sales@mclennan.co.uk or visit www.mclennan.co.uk.