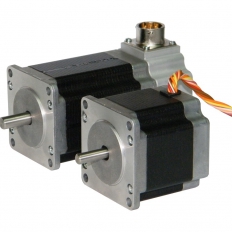 23HSX Range of High Performance Hybrid Stepper Motors
The high performance 23HSX series hybrid stepper motors conform to the International NEMA standard and provide 200/400 steps/rev when used with full/half step drives but are particularly suited to microstepping operation with a wide range of Mclennann drives.
Supplied as an 8-lead motor for uniploar or bipolar operation, the neodynium magnet system provides an exceptional torque performace in a very compact size. Available with standard 300 mm cable terminations or with a high quality metalised connector, the range is also available with a shaft extension for direct mounting of our E5 series encoder, or an optional brake.
Customised assemblies are also available and these motors can be combined with a wide selection of our standard gear box options. Motors are held in stock for rapid delivery and are competitively priced.
Not sure what you need? Our experienced Sales and Applications team will help you - give us a call.
RS part number: 23HSX-102 = 340-3711, 23HSX-206 = 340-3727, 23HSX-306 = 3733