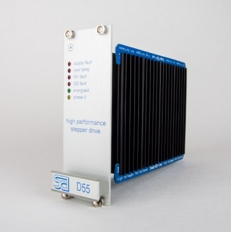 D55/9 - D Series Stepper Drive
5.5 amp RMS full/half stepping eurocard, ideal for integration into 19″ Racks
The D series of Eurocard stepper drives are available from Mclennan:
Advanced Design: The advanced design of the D series drives using MOSFET technology enables continuous motor winding currents up to 16.5A peak (2 phase on) from an 85V supply. A compact high efficiency heat sink allows mounting at 9HP (1.8") pitch in the popular Euromodule 3Ux160mm format; this enables 6 drives and a power supply module to be mounted in a standard 84HP wide rack. Natural free air convection cooling is sufficient for normal operation in most applications.
Rugged MOSFET Power: High efficiency,reliability and fault tolerance is achieved by the use of rugged MOSFET output power devices. Two chopper regulated current switching bridge circuits are optimised for driving 2 or 4 phase hybrid stepper motors with 4, 6 or 8 lead winding configuration. Comprehensive Dynamic Protection D series drives will protect themselves against all motor winding faults, including winding short to winding, winding short to ground and low inductance winding. In addition there is protection against high or low motor supply voltage, low logic supply voltage and over temperature conditions.
Flexible Current Setting: Winding current can either be set by a backplane mounted resistor or in steps by a DIL switch bank, accessible from the front. Adjustments can be made whilst the drive is operating to match the motor characteristics to the load. In addition there is a boost input which increases current output by 30%, useful for rapid acceleration. Boost can be continuously used if required.
Reliability: Conservatively rated components are combined with thorough production testing of all units under simulated fault conditions, and for correct thermal performance. This ensures that each D series drive provides a long life of trouble free operation, even during adverse operating conditions.