Panel Mount Motion Controllers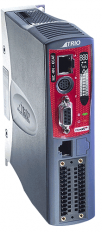 MC4N-RTEX Motion Controller
Motion Controller
Mclennan is delighted to act as stocking distributor and sales partner UK, for the full range of Motion controllers offered by Trio based in the UK. For more information contact our Sales and Applications Engineering team.
The MC4N-RTEX supports up to 32 axes of motion with 64 bit integer position registers for ultra precise axis resolution. RTEX slave drives can be connected and run in cyclic synchronous position, speed or torque modes provided these are supported by the drive.
Programming the MC4N is identical to using traditional analogue axes with the addition of being able to set up drives and process alarms over the RTEX bus. With everything programmed from one place, machine control has never been so simple. Connecting to Panasonic drives is made easy with Motion Perfect v3's Intelligent Drives window.