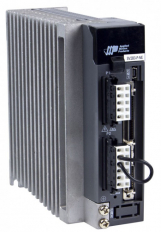 SV200 Series - AC Servo drives w/ multiple fieldbus options
SV200 Series - AC Servo Drives with Multiple Fieldbus Options
Mclennan Proudly present Applied Motion Products SV200 AC servo series, where excellence meets exceptional value. Our digital servo drives redefine performance standards, featuring short settling times of 0 to 2 milliseconds. With auto-tuning capabilities, these drives optimize tuning parameters automatically, significantly reducing setup time. Additionally, the anti-vibration function minimizes, and in many cases, eliminates vibrations resulting from the inherent mechanical characteristics of the load.
Key Features:
Versatile Control Modes: The SV200 series offers an array of control modes to suit your specific application needs, including Analog Positioning, Analog Torque / Velocity, CANopen, Encoder Following, EtherNet/IP, Modbus RTU, Modbus TCP, Q Programming, Step & Direction, and Streaming Commands.
Flexible Communication Protocols: Choose from a variety of communication protocols, including CANopen, Dual-port, Ethernet, EtherNet/IP, RS-232, and RS-485. This versatility ensures seamless integration with your existing systems.
Diverse Voltage Options: The SV200 series accommodates various voltage inputs, including 156-264 VAC, 24-60 VDC, and 78-139 VAC. This adaptability ensures compatibility with different power sources.
Enhanced Precision: Our drives now offer absolute 16-bit encoders, delivering exceptional precision for your motion control applications.
The Applied Motion Products SV200 series empowers you to take control with confidence. Whether you need precise positioning, high torque, or reliable motion control, these drives are the ideal choice. For inquiries, quotes, or to discuss how our SV200 series can enhance your applications, our expert team is ready to assist you. Elevate your motion control to new heights with the versatile and high-performance SV200 series!
156-264 VAC
CANopen
3.0
9.0
CANopen
156-264 VAC
Q Programming, EtherNet/IP
3.0
9.0
Ethernet, EtherNet/IP, Ethernet, dual-port
156-264 VAC
Step & Direction, Analog Torque / Velocity
3.0
9.0
NA
156-264 VAC
Streaming Commands, Analog Positioning, Encoder Following, Q Programming
3.0
9.0
RS-232
156-264 VAC
Streaming Commands, Analog Positioning, Encoder Following, Q Programming, Modbus TCP
3.0
9.0
Ethernet, Ethernet, dual-port
156-264 VAC
Streaming Commands, Analog Positioning, Encoder Following, Q Programming, Modbus TCP
3.00
9.00
Ethernet
156-264 VAC
Streaming Commands, Analog Positioning, Encoder Following, Q Programming, Modbus RTU
3.0
9.0
RS-485
156-264 VAC
CANopen
4.5
13.5
CANopen
156-264 VAC
Q Programming, EtherNet/IP
4.5
13.5
Ethernet, EtherNet/IP, Ethernet, dual-port
156-264 VAC
Step & Direction, Analog Torque / Velocity
4.5
13.5
NA
156-264 VAC
Streaming Commands, Analog Positioning, Encoder Following, Q Programming
4.5
13.5
RS-232
156-264 VAC
Streaming Commands, Analog Positioning, Encoder Following, Q Programming, Modbus TCP
4.5
13.5
Ethernet, Ethernet, dual-port
156-264 VAC
Streaming Commands, Analog Positioning, Encoder Following, Q Programming, Modbus TCP
4.50
13.50
Ethernet
156-264 VAC
Streaming Commands, Analog Positioning, Encoder Following, Q Programming, Modbus RTU
4.5
13.5
RS-485