Matching stepper motor and drive now with hazardous area certification: AMP release hazardous location-ready microstepping motor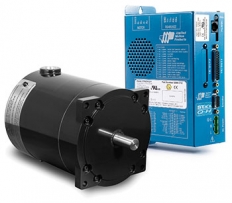 Following last year's launch of its STAC-6 series ATEX, IEC-Ex and UL hazardous location certified microstepping drive, Applied Motion Products (AMP) has released a compatible stepper motor – allowing a complete internationally certified motor and drive package for machine automation applications in high safety industries where explosive atmospheres are commonly found such as oil & gas, mining and printing. Available with full support from Mclennan, the new stepper motor is certified for Class I, Zone 1 locations and would typically be installed in highly hazardous areas with the matching STAC-6 drive, which has a Class I, Zone 2 certification, and suits a physically isolated location.
The new HX56-100 motor has a NEMA 56 frame with a nominal diameter of 134 mm and length of 170 mm. Its environmental rating is IP66/Type 4X. The high torque design is optimised for microstepping and yields an approximate power rating of 250 Watts with a continuous duty rating and maximum speed of 2200 rpm. HazLoc certification for the HX56-100 extends to the USA, Canada, Europe and the Middle East - covering ATEX and IECEx for Class I, Zone 1 locations and UL certifications for Class 1, Div 1, and Group C & D locations. Mclennan can help with motor sizing. A comprehensive installation guide and hardware manual for the new hazardous area stepper motor and the drive is available from the Hampshire-based motion specialist.
The matching STAC-6-Q-H hazardous area microstepping drive has many of the features of the well-established STAC-6 range including motion control configuration options for step & direction, analogue voltage, PC or PLC host control. Step resolution is selectable from full/half-step to 51,200 steps/rev microstepping. AMP's advanced anti- resonance algorithm and torque ripple levelling algorithms ensure smooth and precise motion. Controller options include AMP's powerful Q-Programming which may be used with its ST-Configurator software to provide graphical PC-based point and click programming for simple machine sequencing. Q-Programming also provides the means to write and edit multi-tasked motion and machine control code with maths functions and advanced features such as electronic gearbox, product registration and on-the-fly motion functions. 7 digital inputs and 3 digital outputs are configurable at set-up and programming modes, offering a high degree pf machine interfacing.
Mclennan provides comprehensive support for AMP's broad range of stepper and servo based motion control components, and through distribution partnerships with a select number of leading motion control equipment manufacturers also offers a design and build service for precision motion sub-assemblies and miniature power transmission systems. For more information on Mclennan's fully supported motion products, email sales@mclennan.co.uk or visit www.mclennan.co.uk.